Reactor
Carbon steel zirconium clad reactor shipped to USA
---
Evaporators
These evaporators, ducting and pipe spools were designed, fabricated and delivered to an oil sands facility in Northern Alberta.
---
Heat Exchanger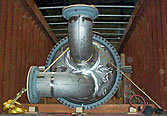 Zirconium heat exchanger secured for shipment to Australia. We ship equipment around the world.
---
Pipe Spools
Titanium pipe spools for shipment to Chile, South America. Fabrication and inspection to exacting tolerances ensures quick installation at the jobsite.
---